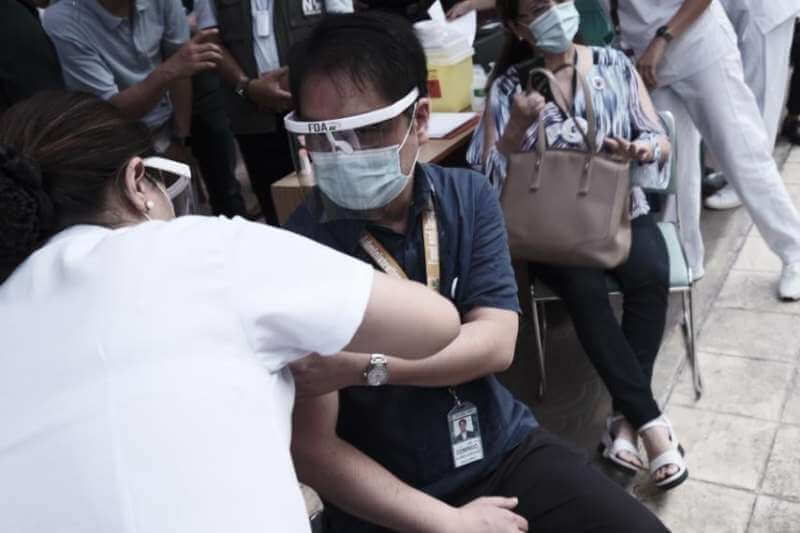 MANILA – The Department of Health (DOH) has confirmed that 13 cases of "adverse events following immunization" or side affect were recorded following the injection of Sinovac's CoronaVac vaccine yesterday.
"There were 13 adverse events following immunization that was noted yesterday among all of these vaccinees in different hospitals," said Health Usec. Maria Rosario Vergeire
The official did not say which of the six medical facilities that carried out the "symbolic vaccination" on Monday recorded the incidents.
But it clarified that those who received the Chinese vaccine only felt a common side effect.
"All of them are common and minor adverse events."
According to Vergeire, seven experienced an increase in blood pressure, three felt pain at the injection site, one had rashes, one felt a headache, and one felt vomiting.
"None of them were admitted, they were all observed, managed, and after a while they were all sent home."
It will be recalled that the Veterans Memorial Medical Center reported some vaccine recepients who felt dizzy after being injected with the Sinovac vaccine.
Based on Malacanang data, 756 individuals from six hospitals were vaccinated with the CoronaVac vaccine yesterday.
The government hopes that more people will be vaccinated with the Chinese vaccine to reach the target of "herd immunity."
The vaccines used yesterday came from 600,000 doses of Chinese donations.