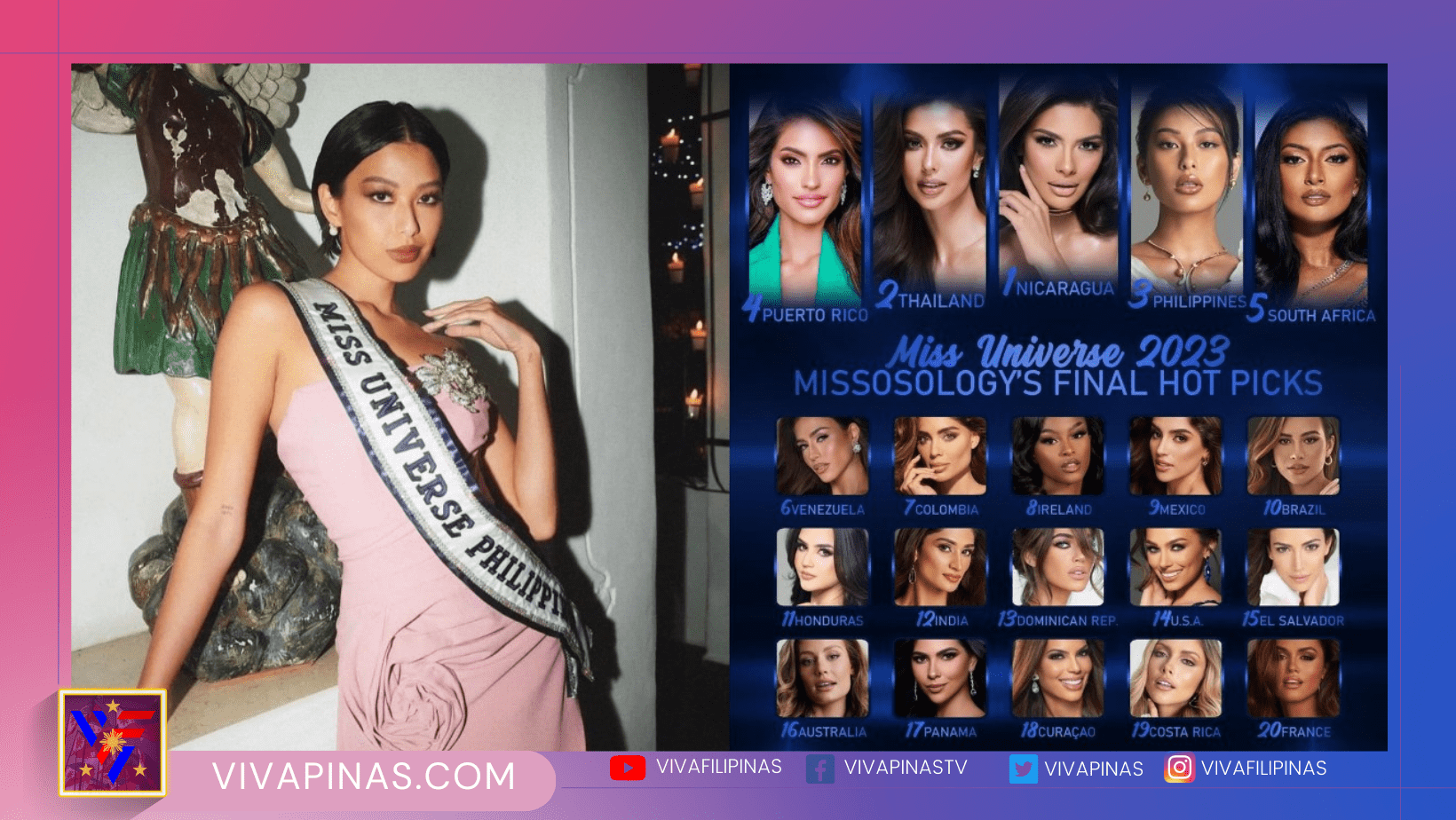 As a new queen is set to be crowned Miss Universe 2023 on Sunday, Nov. 19 (Philippine time), online pageant site Missosology has revealed their final picks for the finals—and it includes the Philippines' very own Michelle Dee.
The 72nd edition of the prestigious pageant concluded its preliminary swimsuit, evening gown, and national costume segments earlier this week, taking the 84 delegates from different parts of the world another step closer to the crown. Which among them could earn the highly coveted title in the end?
Missosology predicted that it would be Nicaragua's Sheynnis Palacios, whom they referred to as the "most polished, elegant and experienced candidate."
"She walked like a queen on the runway with a perfect combination of élan and fierceness. The biggest question mark however is how she fared during closed door interview or if her advocacy won the nod of the judges," the pageant pundit wrote on their website.
Coming in second on their list is Anntonia Porsild from Thailand, who is no stranger to the world of pageantry as she was previously crowned as Miss Supranational 2019.
"She is known as a great communicator so there is no doubt she aced her interviews. She has also an enigmatic beauty and has a captivating persona," Missosology said of her performance.
Although she is a strong competitor for the crown, the pageant site explained that she did not top their final hot picks because of her prelims performance, which they described as "lackluster" as she "came off heavy and tired."
The next queen who has the potential of clinching the Miss Universe 2023 crown, according to Missosology, is the Philippines' Michelle.
In analyzing her performance, Missosology wrote, "Initially, her styling and personality came off as dry and pale. During the prelims, however, she proved her critics wrong by displaying sheer elegance and sophistication."
They continued, "She also has a very strong advocacy and she is intelligent. If she wins the crown, that will be hardly surprising."
Nicaragua – Sheynnis Palacios
Thailand – Anntonia Porsild
Philippines – Michelle Dee
Puerto Rico – Karla Guilfú
South Africa – Bryoni Govender
Venezuela – Diana Silva
Colombia – Camila Avella
Ireland – Aishah Akorede
Mexico – Melissa Flores
Brazil – Maria Brechane
Honduras – Zuheilyn Clemente
India – Shweta Sharda
Dominican Republic – Mariana Downing
USA – Noelia Voigt
El Salvador – Isabella Garcia-Manzo
Australia – Moraya Wilson
Panama – Natasha Vargas
Curacao – Kim Rossen
Costa Rica – Lisbeth Valverde
France – Diane Leyre
As for their "dark horses," or candidates who aren't really talked that much about but could unexpectedly win, Missosology listed down Angola's Ana Coimbra, Ecuador's Delary Stoffers, Canada's Madison Kvaltin, Cameroon's Issie Princesse, and Mauritius' Tatiana Beauharnais.
The 72nd Miss Universe will hold its grand coronation night on Sunday, Nov. 19 (Philippine time) in El Salvador. The winner will assume the title of Miss Universe from reigning queen, R'Bonney Gabriel.
The much-awaited affair will be aired and streamed live on A2Z Channel 11, Kapamilya Channel, Metro Channel, and iWantTFC on Sunday, Nov. 19, at 9 a.m. (Philippine time). Same-day replays will be available at 9:30 p.m. on A2Z, Kapamilya Channel via Sunday's Best, Metro Channel and iWantTFC. Replays will also be aired later in the week on the Metro Channel.